Я даже не могу передать, как я обожаю Hunger games! И как я была рада, что выходит коллекция, посвященная им!
Правда, небольшое разочарование: изначально названия лаков были интересными, и главное, осмысленными. Но в итоге их поменяли, теперь идея коллекции: каждый лак соответствует каждому district. Не верьте, не соответствует.
Поэтому я нашла те самые первоначальные названия...Это совсем другое дело! Мое желание купить понравившиеся по свотчам лаки очень укрепилось)
Это ужасно, но я хочу все, кроме двух - светло-серого и "гэйла". Пыльно-розовый сначала показался мне неинтересным, но потом я посмотрела на старое название...Прим! Как не купить? А коричневый - просто идеален! Обожаю коричневые теплого оттенка, сейчас у всех в основном taupe, уже начавший меня раздражать. Ну а старое название... Однозначно мой будущий любимый лак.
I love Hunger Games soo much and I was incredibly excited about this collection! Though I am disappointed by the change of the names. I think old ones are better.
Старая версия (old names):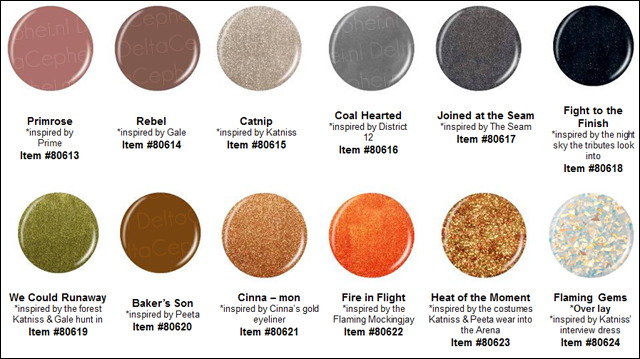 новая: